Description
Introducing the 2-in-1 Portable Silicone Ice Ball Maker KettleWhen your ice-making journey is complete, here's a pro tip:
Open the lid and patiently wait for 1-2 minutes. Then, with a gentle twist left and right, extend it out to avoid any product damage. If you're curious about the process, you can also watch our instructional video for a visual guide!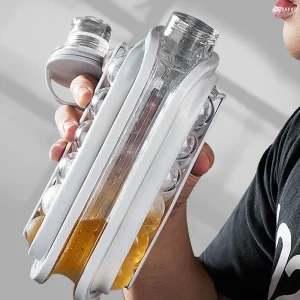 Tired of your drinks losing their chill too quickly?
Our 2-in-1 Portable Silicone Ice Ball Maker Kettle is here to the rescue. Whether you're sipping on cocktails, iced coffee, fruit juice, or just refreshing water, this innovative kitchen and bar gadget ensures your beverages stay cool for longer.
Perfect for a wide range of settings, including house parties, home bars, restaurants, beaches, and holiday events, this ice maker is versatile and ready to impress your guests.
Constructed with nontoxic, leak-free materials, this ice maker is as durable as it is user-friendly. You won't have to worry about it cracking or breaking, and filling, removing, and cleaning it is a breeze.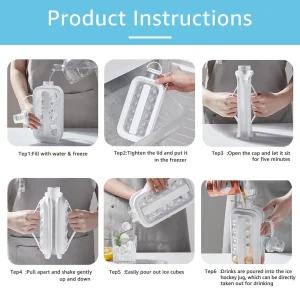 The design of the pitcher allows you to make up to 17 hockey puck-shaped ice cubes at once.
The thoughtful inclusion of an anti-loss chain on the bottle cap and body enhances portability, making it a convenient companion for any occasion. Its flat body shape is easy to carry with one hand, whether at home or on the go, ensuring it doesn't take up much space.
What's more, our product is crafted from food-grade TRITAN materials, offering peace of mind when it comes to safety and cleanliness. Cleaning is a breeze as well—simply pour in warm water (not too hot, around 40°C), close the lid, and give it a good shake to achieve a pristine, ready-to-use ice maker once again.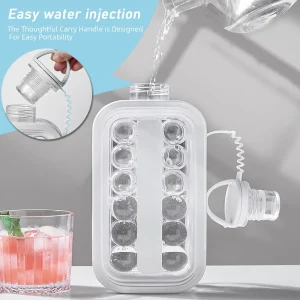 Elevate your beverage experience with the 2-in-1 Portable Silicone Ice Ball Maker Kettle – your key to longer-lasting, ice-cold refreshments in style and convenience. Choose your color and enhance your drinks today!