Description
Introducing the 49-Grid BBQ Skewers Artifact 
Your Ultimate Grilling Companion!
Upgrade your barbecue game with our innovative BBQ Tools Skewers Artifact. Crafted from premium food-grade ABS material, this tool is designed for convenience, speed, and precision in skewering your favorite meats, fruits, or vegetables. Say goodbye to the hassle of cutting individual pieces and manually threading them onto skewers!
Key Features:
Premium Food-Grade Material: Constructed from high-quality food-grade ABS material for safe and durable use.
Effortless Skewering: Create 49 grilling skewers in a matter of seconds, saving you valuable time and effort.
Versatile Usage: Suitable for skewering meats, fruits, and vegetables, offering endless grilling possibilities.
Easy to Use and Clean: Streamline your barbecue preparation process with this user-friendly tool that is both easy to use and clean.

Commercial and Household Use: Ideal for both commercial and household settings, this tool is a must-have for BBQ enthusiasts.
Convenient Size: Accommodates skewers of at least 25cm in length, ensuring ample space for your favorite ingredients.
Innovative Design: Revolutionize your skewering process with this innovative tool that eliminates the traditional hassle of manual skewering.
Specifications:
– Number of Skewers: 49
– Material: Food-grade ABS plastic
– Color Options: Blue, Green
– Application: Perfect for both commercial and household grilling
– Skewer Length: Suitable for skewers no less than 25cm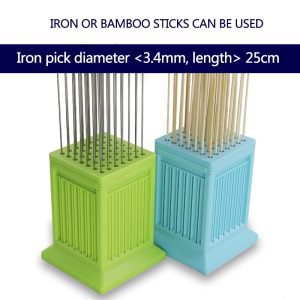 Using Steps:
1. Start by using the meat-filler cover to cut out the meat pieces to fit the meat-piercing device.
2. Place the cut meat pieces, approximately 8cm thick, inside the meat-piercing device.
3. Position the baking sign on top and insert it through the bottom hole (If it's a bit challenging, wiggle it slightly to ease insertion).
4. Slide the cutter along the auxiliary slot to cut the skewers.
5. Open the box, and voila! You now have 49 perfectly threaded skewers ready for grilling.
Please note:
This product does not include barbecue skewers or a knife, but it will transform your skewering experience and make it more efficient than ever before. Upgrade your barbecue game today with the 49-Grid BBQ Skewers Artifact!