Description
Elevate your chilling experience with the Ice Cube Mold Trays with Lid and Container. This innovative and versatile set redefines the way you freeze and store ice cubes, ensuring you have an abundant supply for all your cooling needs.
The set also includes a scoop for easy ice cube retrieval, eliminating the mess and inconvenience of using hands or other makeshift tools.
64 Grids for Maximum Output: This set boasts a remarkable 64 individual cube molds, ensuring you'll never run out of ice when hosting gatherings or crafting the perfect cocktail. Say goodbye to the hassle of constantly refilling ice trays.
v
The Ultimate Convenience:
No more fumbling with slippery, melting ice cubes or resorting to makeshift tools. This comprehensive set comes complete with a convenient scoop, providing you with a hassle-free solution for retrieving ice cubes effortlessly. Bid farewell to messy hands and awkward ice cube extraction.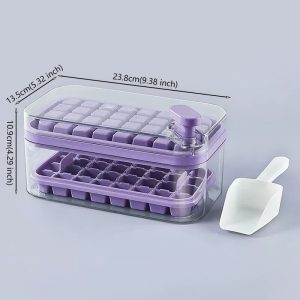 Unparalleled Capacity with 64 Grids:
Imagine never having to worry about running out of ice during your gatherings or when crafting that perfect cocktail. With an astonishing 64 individual cube molds, this set offers an unmatched ice-making capacity that ensures you'll always have an ample supply on hand. Say goodbye to the constant chore of refilling traditional ice trays.
Crafted from food-grade, BPA-free silicone, these molds are exceptionally flexible. This feature allows for easy release of ice cubes, preventing messy breakage and ensuring intact, pristine cubes every time.
Elevate your chilling experience to new heights with the Ice Cube Mold Trays with Lid and Container. Make every sip a refreshing delight, and enjoy the freedom of abundant ice at your fingertips. This set is your ticket to hosting stress-free gatherings and indulging in the coolest beverages whenever you desire.