Description
Versatile Cooking with Eco-Friendly Efficiency
Elevate Your Culinary Experience
Introducing our cutting-edge cooking solution designed to enhance your kitchen experience while prioritizing eco-friendliness. With its eco-friendly features and multifunctional capabilities, this appliance redefines cooking convenience.
Efficiency Meets Eco-Friendliness
Our cooking appliance is not just about delicious meals; it's also about being environmentally conscious. Engineered with eco-friendliness in mind, it reduces energy consumption while delivering exceptional cooking results.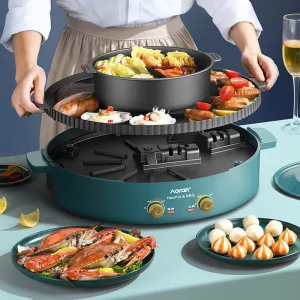 Multi-Purpose Culinary Magic
Unleash your culinary creativity with this versatile device. Whether you're in the mood for shabu, roasting, or frying, it's a one-pot wonder that caters to your every cooking whim.
Ergonomic Control
Take charge of your cooking experience with dual knobs for electronic independent temperature control. Achieve the perfect heat levels for your dishes, guaranteeing culinary perfection every time.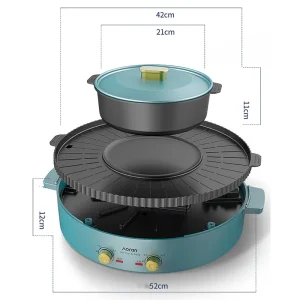 Healthy Cooking, Easy Cleanup
Our appliance features a drawer-type oil receiving box, ensuring that your meals are less oily and not greasy. This means healthier cooking and less mess, making cleanup a breeze.
Powerful Performance
With a high power rating of 1700W, this appliance heats up quickly and maintains high temperatures without emitting harmful substances, ensuring that your meals are cooked efficiently and safely.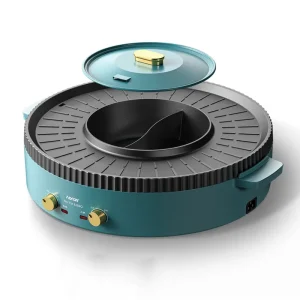 Elevate your cooking experience with efficiency, versatility, and eco-friendliness. Make every meal a masterpiece with our innovative cooking appliance.😜