Description
Elevate Your Culinary Experience with the Multifunction Electric 40W Vegetable Cutter Slicer Masher
Step into a new realm of culinary convenience with the Multifunction Electric 40W Vegetable Cutter Slicer Masher. This innovative kitchen companion transcends traditional meal preparation, offering an exceptional array of functionalities designed to transform your cooking journey
Features:
 Cutting-Edge Versatility:
Revolutionize your kitchen experience with the power of advanced cutting and pressing mechanisms. This appliance is a true multitasker, providing you with an extensive range of culinary possibilities at your fingertips.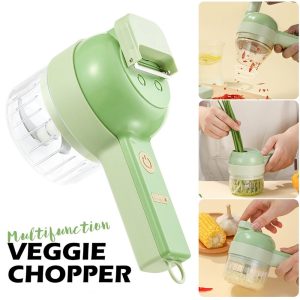 Effortless Efficiency with 40W Power:
Experience the luxury of culinary efficiency as the robust 40W motor effortlessly handles an array of tasks. From precise slicing to efficient dicing, thorough mashing to quick chopping, this appliance performs an orchestra of functions, rendering laborious chopping and slicing a thing of the past.
Streamlined Cooking Process:
Bid farewell to hours of arduous meal preparation and welcome the Multifunction Electric Cutter into your culinary routine. With its exceptional speed and precision, it cuts down the time spent on chopping and slicing, freeing you to immerse yourself in the true joy of cooking.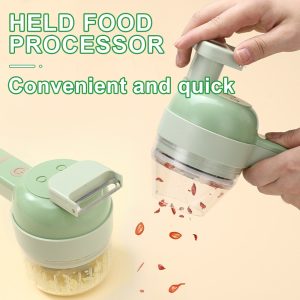 User-Friendly Design:
The appliance's intuitive design ensures ease of use, making it accessible to both novice and seasoned chefs. Its thoughtful engineering guarantees that your culinary journey is smooth and satisfying, allowing you to focus on the art of cooking itself.
Experience the Future of Culinary Excellence:
Transform your kitchen into a realm of culinary excellence with the Multifunction Electric 40W Vegetable Cutter Slicer Masher. This appliance is more than just a kitchen tool; it's a partner that enhances your cooking experience, maximizes efficiency, and empowers your creativity. Embrace the fusion of innovation and tradition and let this appliance elevate your culinary creations to new heights. Order now and experience the future of culinary convenience firsthand.