Description
Enhance Your Kitchen Organization
In the fast-paced world of culinary creativity, having a streamlined and organized kitchen is a game-changer. Our Wall Hanging Condiment Box Household Kitchen Shelf Salt Monosodium Glutamate Seasoning Combination Set Condiment Bottle Jar is designed to do just that. With this innovative storage solution, you can keep your kitchen essentials easily accessible, efficiently organized, and beautifully displayed.


Efficient and Space-Saving Design
Our kitchen shelf set offers a space-saving solution that transforms any blank wall into a functional and stylish kitchen storage area. The wall-mounted design not only frees up valuable counter and cabinet space but also adds a touch of modern elegance to your kitchen. The combination set includes individual containers for salt, monosodium glutamate, and various seasonings, allowing you to keep your go-to ingredients at arm's reach while cooking.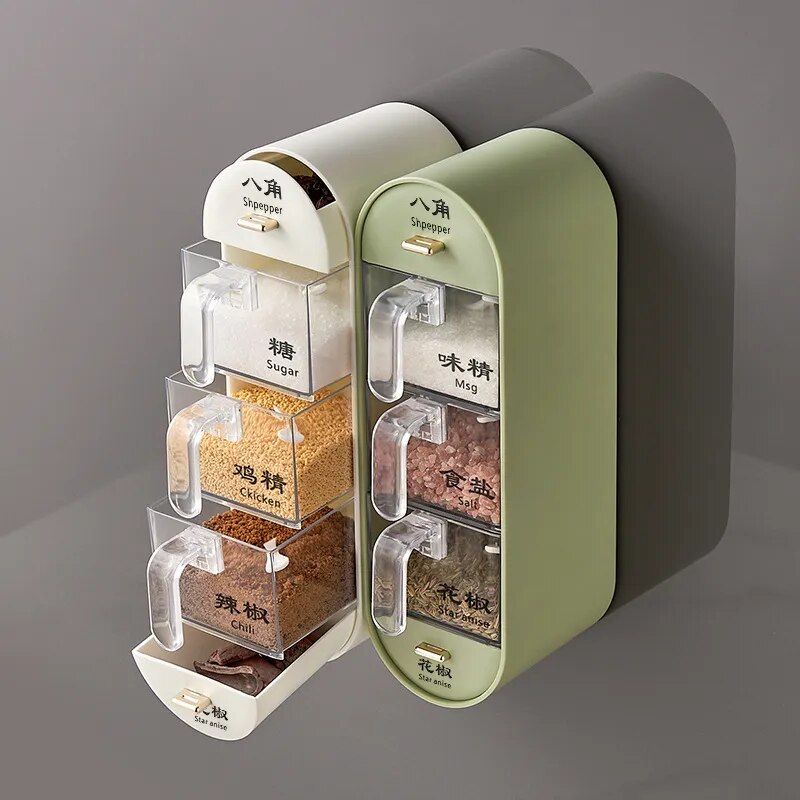 High-Quality Materials for Longevity
We believe in offering products that stand the test of time, and this condiment box combination set is no exception. Crafted from high-quality materials, each condiment bottle jar is durable and easy to clean, ensuring it remains a vital part of your kitchen for years to come. The transparent containers let you see the content level, making it effortless to keep track of your seasoning supplies.
Aesthetic Appeal and Functional Versatility
The combination set doesn't just enhance your kitchen's functionality; it also adds a touch of elegance to your culinary space. The sleek and minimalist design complements a variety of kitchen styles, making it a versatile addition to any household. Whether you're a professional chef or a passionate home cook, this condiment box combination set promises to keep your seasonings organized, readily available, and your kitchen looking immaculate. Say goodbye to clutter and hello to a more efficient, visually appealing cooking environment.