Description
Elevate Your Pasta Game with the Kitchen Ravioli Maker: Dough Press & Dumpling Mold
Discover the joy of homemade pasta with our Kitchen Ravioli Maker – the ultimate tool for pasta enthusiasts and home cooks. Crafted with precision and designed for simplicity, this dough press and dumpling mold takes the hassle out of creating perfect ravioli and dumplings from the comfort of your kitchen.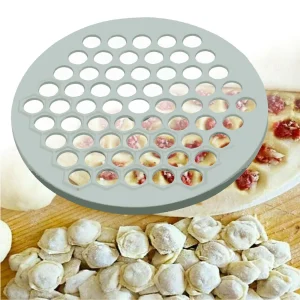 Effortless Pasta Creation:
Say goodbye to store-bought pasta and embrace the art of crafting your own. This versatile kitchen tool allows you to effortlessly make exquisite ravioli and dumplings with ease. From traditional recipes to inventive fillings, your culinary creativity knows no bounds.
Precision Engineering:
Our ravioli maker is engineered with precision in mind. The dough press and dumpling mold are expertly designed to ensure your pasta creations are uniform in size and shape. You'll achieve professional-looking results every time, impressing both yourself and your dinner guests.
**Durable and Food-Safe:**
Constructed from high-quality, food-safe materials, our ravioli maker is built to withstand regular use while ensuring the safety of your culinary creations. It's easy to clean and maintain, making it a valuable addition to your kitchen arsenal.
**Versatile Culinary Companion:**
Not limited to ravioli and dumplings alone, this kitchen tool is your versatile culinary companion. Experiment with various pasta types, fillings, and recipes to expand your homemade pasta repertoire. From savory to sweet, the possibilities are endless.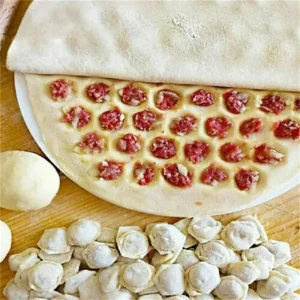 Notes:
1. Please allow for 1-3mm differences due to manual measurement.
2. Understand that the picture may not reflect the actual color of the item due to differences in monitor settings.
Experience the joy of dumpling making like never before with our Dumpling Mold. Elevate your culinary skills and delight your taste buds with homemade dumplings that are as easy to create as they are delicious. Order yours today and embark on a dumpling-making adventure in your own kitchen!