Description
Introducing the WHDPETS Hand-Cranked Manual Fruit Peeler
Your Ultimate Kitchen Companion!
Are you tired of the tedious task of peeling apples and pears? Say hello to the Hand-Cranked Manual Fruit Peeler – a versatile kitchen tool designed to make your life easier, all while keeping your kitchen eco-friendly and efficient.
Key Features:
Premium Materials: Crafted with care from top-quality ABS and stainless steel, our fruit peeler boasts a sleek and stylish design. It's not just functional; it's an environmentally friendly choice that ensures your food remains untainted. Safety and convenience are our top priorities.
Effortless Peeling: Using our manual fruit peeler couldn't be simpler. Just secure your apple or pear onto the blade, turn the handle clockwise, and watch as the blade glides effortlessly, peeling your fruit with precision and speed. The result? Perfectly peeled fruit, every time, without the worry of the peel breaking.
Easy Maintenance: Cleaning up after your culinary adventures is a breeze. The disassemblable blade design ensures quick and hassle-free cleaning, leaving you more time to savor your delicious creations. With our hand-cranked peeler, peeling has never been this convenient.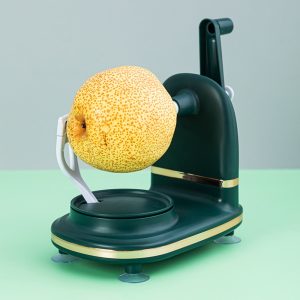 Time and Effort Saver: Bid farewell to the hours spent painstakingly peeling fruits. Our gadget is your reliable kitchen companion, effortlessly reducing your prep time and ensuring your cooking experience is both enjoyable and efficient.
Size: This  Hand-Cranked Manual Fruit Peeler is thoughtfully designed to be compact and space-efficient, making it a valuable addition to any kitchen. Its dimensions are optimized to comfortably fit in your hand, ensuring a comfortable grip while you effortlessly peel your fruits.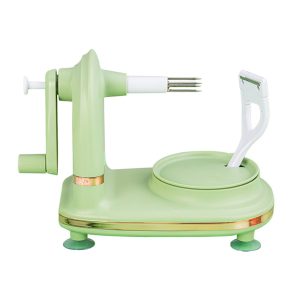 Note:
Transform your kitchen experience with the Hand-Cranked Manual Fruit Peeler. It's the perfect blend of innovation, efficiency, and eco-friendliness, designed to simplify your culinary journey. Say goodbye to the hassle of peeling and embrace a new era of kitchen convenience. Make it yours today!