Description
Introducing the Disposable Paper Cups Dispenser – Your Convenient Cup Storage Solution
Keep your disposable paper cups organized and easily accessible with our Disposable Paper Cups Dispenser. Whether you choose the two-cup or one-cup option, you'll appreciate the practicality and functionality of this cup holder.
Key Features:
Eco-Friendly Material: Crafted from eco-friendly ABS and clear PC plastic, this automatic cup holder is not only durable but also environmentally responsible. It simplifies cup storage, making your daily life more convenient and comfortable.
Dust-Proof Design: Our cup dispenser features a flip-top design, ensuring your paper cups remain clean and dry. No more worries about dust or water soaking your cups. A transparent window allows you to keep track of the remaining cups at a glance.
Easy Installation: Installing this dispenser is a breeze. Its strong adhesive boards secure it to smooth surfaces with ease. Whether you choose to mount it on the wall or attach it to the side of a machine, it's a simple process. The top lid provides quick access for organizing and storing paper cups.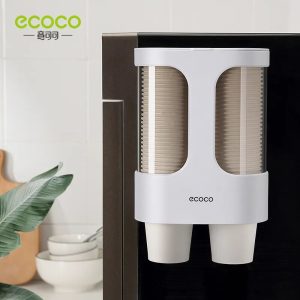 Versatile Use: This dispenser is perfect for various settings, from homes and kitchens to offices, hotels, restaurants, and even parties. It's ideal for any situation that requires easy access to paper cups.
Please note that the color of the item in the picture may slightly differ from the real product due to light conditions and display variations. Additionally, there may be a minor measurement error of +/- 1-3cm.
Make cup storage hassle-free and hygienic with the Disposable Paper Cups Dispenser. Choose the color and type that best suits your needs and enjoy a more organized space today.