Description
Versatile 12-Piece Round Mandoline Slicer Set
Simplify your meal preparation with our versatile 12-piece Mandoline Slicer Set, designed to make kitchen tasks effortless and efficient. Crafted from premium materials, this multifunctional slicer is your go-to kitchen gadget for slicing, dicing, and grating a variety of fruits and vegetables.
Effortless Kitchen Companion:
Tired of the time-consuming and tedious process of chopping vegetables with a traditional knife? Our Mandoline Slicer is here to revolutionize your kitchen experience, especially for busy individuals and home chefs. Say goodbye to the hassle and mess of manual slicing and chopping.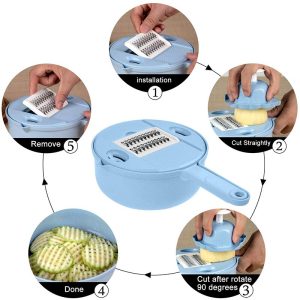 Safe and Efficient Design:
Constructed from durable wheat straw and PP material, our slicer ensures both safety and functionality. The stainless steel blades can be easily interchanged to suit your specific needs. This means you can effortlessly slice, shred, and julienne a wide range of ingredients without worrying about injuries or inconsistent cuts.
All-in-One Kitchen Solution:
This comprehensive set includes everything you need for efficient meal prep:
Storage bottom basin
Drain basket
Cutting board
Hand guard
Peel knife
Egg white separator
Thick wire blade
Sharpening blade
Filament blade
Wave blade
Slicing blade
Blade storage box
Diverse Blade Options:
The Mandoline Slicer comes with 6 easily interchangeable stainless steel blades, offering a range of cutting styles, including a 2 mm straight slicer, grinding, coarse grater, fine coarse grater, julienne slicer, and wavy blade. This set ensures you have the right tool for every culinary task.
Usage Precautions:
1. Exercise caution as the blades are extremely sharp; keep out of reach of children.
2. Avoid exposing the product to high temperatures or open flames to prevent melting or deformation.
3. Promptly clean and dry the product to prevent rust on metal parts.
4. If the product becomes discolored due to ingredients, clean it with cooking oil.
5. When cutting large ingredients, use the hand guard when the remaining portion is small to avoid injury.
6. Clean the slicer with a sponge, detergent, or in a dishwasher for easy maintenance.
7. Use safety hand guards when cutting smaller ingredients, as vegetable shapes may vary.
8. Due to differences in ingredient moisture and freshness, slice thickness may vary slightly.
9. This product is intended for use with fruits and vegetables; please do not exceed its intended scope.
Upgrade your kitchen game with our 12-Piece Mandoline Slicer Set and experience the convenience and precision it brings to your cooking endeavors.