Description
Elevate Your Shower Ritual with the Silicone Bath Scraper
Your Ultimate Spa Companion
Introducing the Silicone Bath Scraper, an innovative and versatile bathroom essential that promises to revolutionize your daily shower routine. Say hello to a shower experience that goes beyond ordinary cleansing, offering you a spa-like indulgence in the comfort of your own home.
Features:
 Spa-Like Rejuvenation:
Experience the luxurious transformation of your shower into a revitalizing spa retreat. The Silicone Bath Scraper is designed to deliver a multi-faceted experience, combining exfoliation, soothing massage, and thorough cleansing in a single tool. Elevate your self-care moments with a rejuvenating shower experience like no other.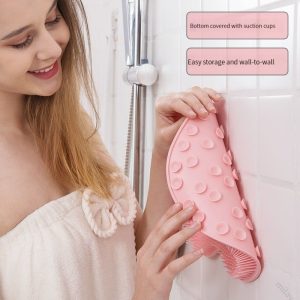 Multifunctional Bathroom Tool:
This innovative bathroom companion is your all-in-one solution for comprehensive pampering. It not only cleanses your skin but also exfoliates to remove dead skin cells, and provides a soothing massage to relieve stress and tension. Streamline your shower routine with the multifunctional prowess of the Silicone Bath Scraper.
Enhanced Stability with Non-Slip Bath Mat:
Bid farewell to slippery shower scares with the built-in non-slip bath mat feature of the Silicone Bath Scraper. Crafted with meticulous engineering, this tool ensures a secure grip even in wet conditions. Say goodbye to concerns about maintaining balance as you cleanse and massage, and embrace the stability that elevates your overall shower experience.
 Your Home Spa Oasis:
Transform your daily shower routine into a luxurious escape with the Silicone Bath Scraper. It's not just a tool; it's a gateway to tranquility and self-indulgence. Elevate your self-care routine by embracing a versatile and effective solution that caters to your every need.
Experience the Shower Revolution:               
Unlock the potential of your daily shower routine with the transformative power of the Silicone Bath Scraper. Enjoy the benefits of exfoliation, massage, and thorough cleansing, all in one ingeniously designed tool. Step into your very own spa sanctuary, enhance your skin's radiance, and embrace the feeling of relaxation and rejuvenation. Order now and elevate your shower experience to new heights of indulgence.