Description
Introducing our premium Silicone Door Handle Protective Cover
A must-have for safeguarding your home while maintaining its aesthetic appeal.Discover a new level of safety and convenience with our Silicone Door Handle Protective Cover. This product is 100% brand new and designed to offer high-quality protection for your family and home.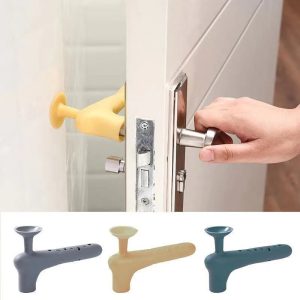 Material: Crafted from durable silicone, our protective cover ensures long-lasting performance and is gentle on your door handles.
Size: Measuring at 13cm x 2.6cm, it's compatible with a wide range of door handles.
Color Options: Choose from a variety of stylish colors including Blue, Gray, and Yellow to seamlessly blend with your interior decor.
Easy Installation: Installing our door handle protective cover is a breeze, and it's conveniently reusable. Simply slide it over your door handle for instant protection.
Enhance Your Home's Safety and Style: Our Silicone Door Handle Protective Cover isn't just about safety; it's also about style. These covers seamlessly integrate into your home's decor, ensuring that your safety measures don't compromise aesthetics. Whether you prefer a subtle gray, a vibrant blue, or a cheerful yellow, our color options allow you to match your interior design effortlessly.
Durable and Reusable: Crafted from high-quality silicone, these protective covers are designed to withstand the test of time. They're highly durable and can be used over and over again, making them a cost-effective and eco-friendly choice for your home.
Ensure the safety of your family and the longevity of your home with our Silicone Door Handle Protective Cover. With its easy installation, durability, and style options, it's the perfect addition to your household. Choose safety, choose style, and choose our Silicone Door Handle Protective Cover for a safer, more stylish home today.