Description
Enhance Your Kitchen with the Stainless Steel Fruit Core Remover
Discover culinary convenience with the Stainless Steel Fruit Core Remover. Crafted to elevate your cooking experience, this tool effortlessly removes seeds from red dates, jujubes, cherries, and olives, making meal preparation a breeze.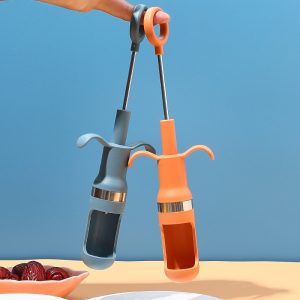 Features:
Quality Stainless Steel Blade:
The durable stainless steel blade ensures efficient and precise seed removal, saving you time and effort during food preparation.
Versatile Shredders & Slicers:
This tool falls under the category of fruit and vegetable tools, offering versatility for a range of kitchen tasks, from slicing to shredding.
Eco-Friendly and Certified:
Crafted with eco-friendliness in mind, the Stainless Steel Fruit Core Remover is both practical and environmentally conscious. It's certified by CIQ, adding an assurance of quality to your kitchen tools.
Easy to Use and Clean:
The user-friendly design ensures effortless operation. Plus, the stainless steel material is easy to clean, allowing for convenient maintenance after use.
Product Information:
  Name: Red Date Corer
Material: PP + Stainless Steel
Weight: Approximately 51g
Size: 23X3cm
Scope of Application: Ideal for household and restaurant use
Note:
Elevate your culinary endeavors with the Stainless Steel Fruit Core Remover. From removing seeds with precision to embracing versatile functionality, this tool becomes an indispensable asset in your kitchen. Order now and experience enhanced efficiency and convenience in your cooking journey.