Description
Introducing the ultimate kitchen companion – the 3-in-1 Manual Vegetable Slicer Set. Elevate your culinary experience with this multifunctional marvel that combines cutting-edge design and unmatched convenience. This set revolutionizes the way you prepare vegetables, making it an indispensable tool for any kitchen.
Crafted for efficiency and ease, the Manual Vegetable Slicer Roller offers three essential functions in a single, compact unit. Whether you're looking to effortlessly slice, chop, or shred your vegetables, this set delivers consistent results every time. Gone are the days of struggling with various tools for different tasks – now you can streamline your food preparation process with this all-inclusive set.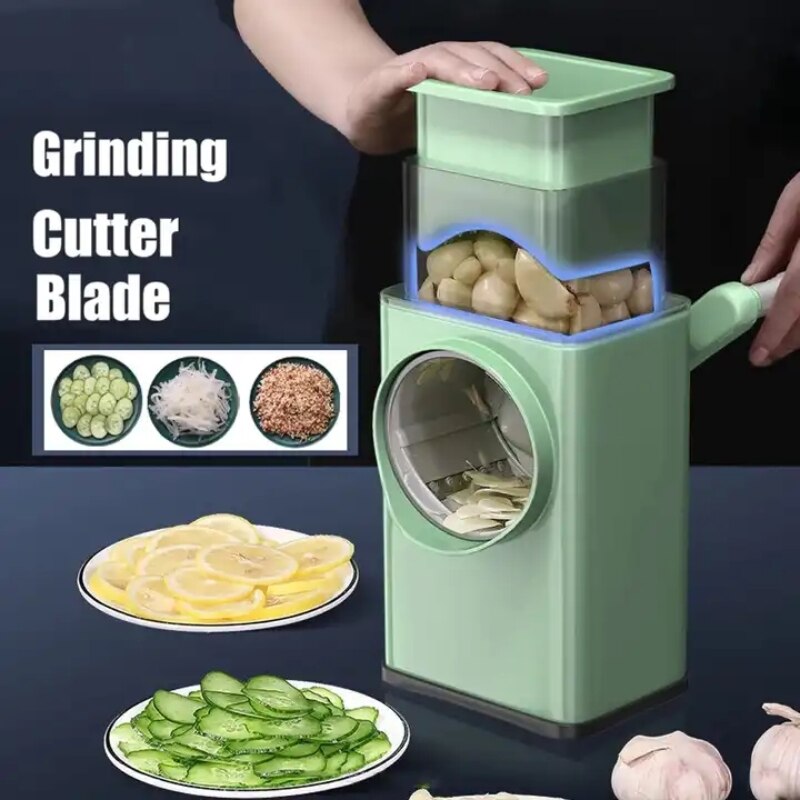 Triple Functionality
This set combines the power of three essential kitchen tools in one compact unit – a slicer, a chopper, and a shredder. Effortlessly switch between functions to suit your meal preparation needs.
Precision Blades
 Equipped with ultra-sharp stainless steel blades, this set ensures consistent and uniform cutting, chopping, and shredding of various vegetables. Say goodbye to uneven slices and chunks.
Effortless Operation
 The ergonomic handle and smooth roller mechanism make using this set a breeze. Glide through even the toughest vegetables with minimal physical exertion, reducing fatigue during food preparation.
Safety First
Designed with user safety in mind, the non-slip base provides stability during use, preventing accidents. The secure grip handle ensures your fingers stay away from the blades, enhancing overall safety.
Space-Saving Design
Its compact size allows for easy storage, freeing up valuable counter space. No need for multiple bulky tools cluttering your kitchen – this set does it all.
The 3-in-1 Manual Vegetable Slicer Set is a versatile, space-efficient, and user-friendly solution that transforms your kitchen experience. Embrace the convenience, precision, and safety it offers as you embark on a journey of culinary excellence.