Description
Introducing the Micro Pressure Pumpkin Soup Pot
Elevate your cooking experience with our Micro Pressure Pumpkin Soup Pot, a masterful blend of eco-friendliness, innovation, and culinary expertise. This pot is designed to meet the demands of disg home chefs who appreciate both convenience and performance. Let's delve into the details of what makes this pot acernin must-have addition to your kitchen.
Features:
Smart Dual Ear Design: Carefully crafted with a dual ear design, this pot comes paired with a silicone anti-scald jacket that fits snugly against the pot ears. This design not only ensures a secure grip but also keeps the handles cool to the touch, allowing for safe and comfortable handling.
Versatile Cooking: Whether you're simmering soups, preparing stocks, or experimenting with complex recipes, this pot is proficient in various cooking methods. It simplifies your culinary endeavors by offering a single pot solution for a wide range of dishes.
Clear Lid Convenience: The pot's visible lid is thoughtfully designed to be non-slip when picked up, enhancing clarity and convenience in the kitchen. Additionally, the anti-overflow edge of the pot is raised, preventing spills and ensuring your cooking experience remains mess-free.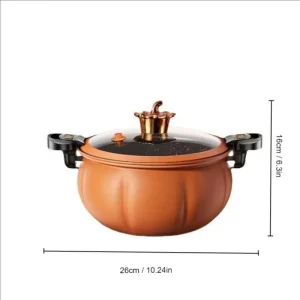 Note:
1. Please allow a 1-3 cm difference in size due to manual measurement.
2. Due to variations in display and lighting, the color of the item in the picture may differ slightly from the actual product. Thank you for your understanding.
Upgrade your kitchen, reduce your environmental footprint, and unleash your inner chef – order yours today and experience the difference for yourself!