Description
Introducing the Ultimate Kitchen Tool
Upgrade your kitchen game with our high-quality Mandoline Slicer
The perfect addition to your culinary arsenal. Crafted with precision from durable stainless steel, this kitchen gadget is a must-have for every home chef. Here's why our Mandoline Slicer stands out:
Unmatched Quality & Functionality: Designed for professional-grade performance, this Mandoline Slicer effortlessly handles a variety of tasks, from chopping and slicing vegetables to grating and crushing fruits. Its 430 stainless steel blades ensure precision cutting every time.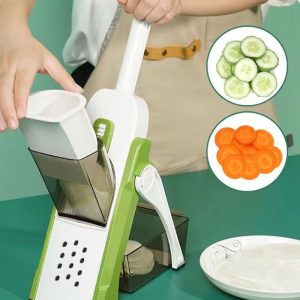 Fast, Healthy, and Easy Meals:
Create restaurant-quality dishes with ease. Whether you're aiming for perfect French cuts, crafting tasty fries, or making healthy carrot snacks, this slicer is your secret weapon. Elevate your meals, impress guests, and make mealtime more fun for kids.
Mess-Free Kitchen:
Say goodbye to messy countertops. Our Mandoline Slicer is designed to keep your kitchen tidy, preventing slices from scattering and making cleanup a breeze.
BPA-Free and Dishwasher Safe:
Your health is our priority. This slicer is made from non-toxic ABS plastic, guaranteeing safe and healthy meals. Plus, it's top-rack dishwasher and dish sterilizer safe for effortless cleaning.
Package Includes:
– 1 x Slicer
– 4 x Blades
– 1 x Manual
Specifications:
– Color: Green/Grey/Red
– Size: 41 x 21 x 11cm
– Material: BPA-free plastic
Notes:
Upgrade your kitchen experience with the Mandoline Slicer and discover a world of culinary possibilities. Don't miss out on this versatile and eco-friendly kitchen essential. Click 'Add to Cart' now and elevate your cooking game today!